We provide accounting and tax services for documents in English for small and medium-sized businesses as well as individuals.

▼ 海外子会社・支店の英文財務諸表・監査レポートなどを日本語にいたします。
We translate financial statements, audit reports and other documents from overseas subsidiaries and branches from English to Japanese.


▼外資系企業の日本支店の場合、本国への英文レポートを作成いたします。
We prepare reports in English for Japanese branches of foreign companies to satisfy their home country's filing requirements.


▼日本語が苦手な日本在住の外国人の方の確定申告のサポートをします。
We help non-Japanese residents of Japan file Japanese tax returns.


▼ これら英語に関する業務を適正報酬額でお引き受けします(既存契約の税理士がいる場合も可)。
We charge a fair price for our services in English (even for those working with other tax accountants)


▼ 海外に子会社・支店などを設立している企業様は、進出先での納税のため現地財務諸表の作成が必要になります。その場合、支店管理や日本での納税のため、現地財務諸表から日本語財務諸表の作成・監査レポートの和訳をいたします。
Companies that establish subsidiaries, branches and other entities outside Japan must prepare local financial statements to pay taxes in those locales. To help with branch management and tax payment in Japan, we prepare Japanese financial statements based on the local financial statements, and translate audit reports into Japanese.


▼ 外資系企業の日本支店・子会社は、本国への月次・四半期レポートを提出する場合がほとんどですが、日本語の月次試算表から英文財務諸表を作成いたします。(日本の税務申告も対応)また、本国より税効果会計や国際会計基準の採用を求められている場合でも対応可能です。
Most foreign companies with branches or subsidiaries in Japan must file monthly or quarterly reports to their home countries. Thus, we prepare financial statements in English based on monthly trial balance sheets in Japanese (we can also tax statements as the base). We can also accommodate home country requirements to use tax effect accounting or international accounting standards.


▼ 会社役員・個人事業の外国人の方で日本語が苦手な方の確定申告書を作成いたします。
We prepare tax return forms for non-Japanese company directors or sole proprietors who struggle with the Japanese language.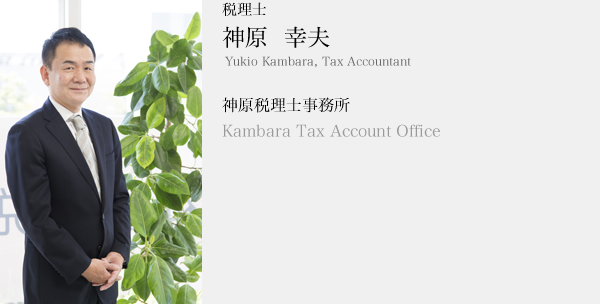 1990年

大手監査法人に入所(税務・会計全般に従事(海外案件含む))

1990:

Joined a major auditing firm, performed tax affairs and general accounting work (including foreign accounts)

1997年

一般企業(上場会社)で経理財務マネージャ―で7年間シンガポール駐在

1997:

Joined a publicly-listed company as corporate accounting and finance manager, stationed in Singapore for seven years

2013年

神原税理士事務所開設(JR「南草津」駅徒歩5分:新快速で「京都」駅より17分)

2013:

Established Kambara Tax Accountant Office (a 5-minute walk from JR Minami-Kusatsu Station, a 17-minute ride on the special rapid service train from Kyoto Station)
〒525-0050 滋賀県草津市南草津二丁目3-9 コミュニティ南草津ビルⅢ 3F-B
TEL. 077-599-3480 / FAX. 077-599-3481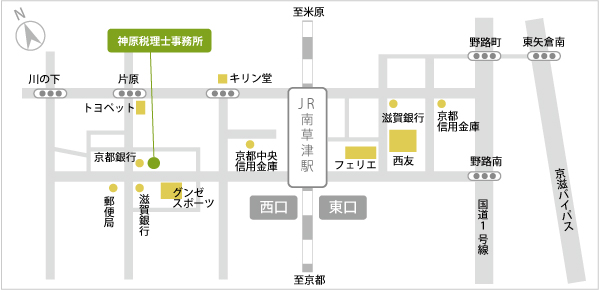 Address :

#3F-B,Community Minami-Kusatsu building III 2-3-9, Minami-Kusatsu
, Kusatsu-city,Shiga

Tel :

077-599-3480

Fax :

077-599-3481

URL :

http://www.kambara-office.com